Image: BigstockIn the past week, Latin American carrier Copa Holdings (CPA – Free Report) reported better-than-expected third-quarter 2023 earnings per share. The results were aided by upbeat air travel demand and the company's cost-reduction actions.Another Latin American carrier, Gol Linhas (GOL – Free Report), was also in the news courtesy of its impressive traffic report for October. The overall numbers improved as international traffic came roaring back after the pandemic. An expansion-related update was also available from Allegiant Travel Company (ALGT – Free Report) in the past week.Given the upbeat air travel demand scenario, Airlines for America, or A4A, came up with a bullish forecast for the upcoming Thanksgiving travel period (Nov. 17-27). Per A4A, air travel during the Thanksgiving holiday period this year is likely to touch an all-time high.

Recap of the Past Week's Most Important Stories
Copa's third-quarter 2023 earnings (excluding 33 cents from non-recurring items) of $4.39 per share surpassed the Zacks Consensus Estimate of $3.74 and rose more than 50% year-over-year. Revenues of $867.7 million, however, missed the Zacks Consensus Estimate of $879.3 million. Revenues improved 7.2% year-over-year on the back of higher passenger revenues.Passenger revenues (contributed 96% to the top line) increased 7.6% from third-quarter 2022 actuals, owing to higher load factor (the percentage of seats filled by passengers) and capacity. Cargo and mail revenues fell 11.2% to $23.4 million due to lower cargo volumes and yields. Other operating revenues came in at $10.9 million, up 24.5% year-over-year, on the back of revenues from non-air ConnectMiles partners.For 2023, Copa Holdings expects its consolidated capacity to register 13% growth from 2022. Operating margin is expected to be 23%. The load factor is now expected to be around 87% (prior view: 86%). Updates on the third-quarter earnings report of another Latin American carrier, Gol Linhas, are available in the previous week's write-up.In October, consolidated revenue passenger kilometers (a measure of air traffic) at Gol Linhas increased 2.6% on a year-over-year basis, while available seat kilometers (a measure of capacity) fell 1.2%.With traffic growth outpacing capacity expansion, the load factor improved to 84.5% from 81.4% in October 2022. The number of flight departures at GOL in October registered a 3.1% year-over-year increase. Consolidated passengers on board rose 8.6% year-over-year. Currently, Gol Linhas carries a Zacks Rank #3 (Hold).Per A4A, passenger volume is expected to be nearly 30 million over the 11-day Thanksgiving travel period. Riding on the buoyant air traffic scenario, Delta Air Lines (DAL – Free Report) expects approximately 6 million passengers to avail its flights in the Nov. 18-29 timeframe. The forecast implies that nearly 50,000 passengers are likely to fly per day. American Airlines (AAL – Free Report) expects the busiest-ever Thanksgiving travel period this year.In a bid to expand its network to meet the buoyant air travel demand scenario, Allegiant announced the introduction of 12 new nonstop routes to popular vacation destinations. The new flights, which take effect in spring 2024, will expand the airline's network options in 22 cities around the United States.

Price Performance
The following table shows the price movement of the major airline players over the past week and during the past six months.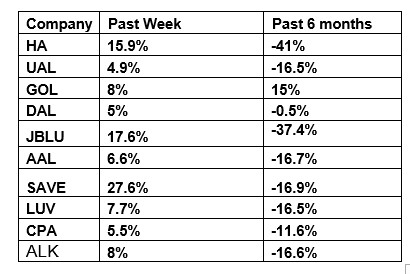 Image Source: Zacks Investment ResearchThe table above shows that all airline stocks traded in the green over the past week. Consequently, the NYSE ARCA Airline Index rose 11.2% to $54.15 over the past week. Over the course of six months, the sector tracker decreased 10.1%.

What's Next in the Airline Space?
Stay tuned for the usual news updates in the space.More By This Author:3 Top-Ranked Stocks Suited For Value Investors3 Stocks to Buy for Travel & Hospitality-Related ExposureNvidia Q3 Preview: Another Blowout Quarter Inbound?