Image Source: PixabayInvestor-favorite NVIDIA (NVDA) is gearing up to unveil quarterly results next week, undoubtedly representing one of the most highly-awaited releases of the Q3 cycle. The release will help cap off earnings season, with most notable companies already unveiling results.The release will also wrap up the Q3 cycle for the 'Big 7', whose performance as a group in 2023 has been remarkable amid a favorable sentiment shift.Analysts have been bullish on NVIDIA all year, constantly revising their earnings expectations higher following scorching demand for artificial intelligence (AI) chips. The stock has held the highly-coveted Zacks Rank #1 (Strong Buy) for most of 2023.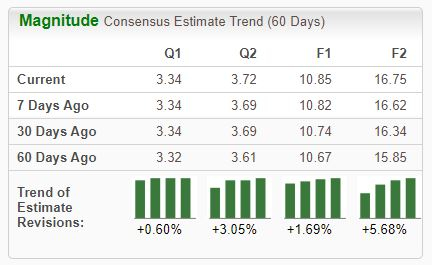 Image Source: Zacks Investment ResearchNVIDIA reports next week on Tuesday, November 21st, after the market's close. Let's take a closer look at expectations heading into the release.NVIDIA Q3Concerning headline figures, the Zacks Consensus EPS Estimate of $3.34 for the upcoming release suggests growth of a sizable 475% from the year-ago period, with the estimate up nearly 36% since the end of August.Regarding the top line, the Zacks Consensus Estimate of $16.1 billion implies growth of 170% year-over-year, revised 10% higher over the same period. Both revisions trends are illustrated below.


Image Source: Zacks Investment ResearchData CenterOf course, eyes will be laser-focused on the company's Data Center results, which include sales of its artificial intelligence chips. It's more than reasonable to assume the company will speak extensively on Data Center trends and demand, precisely what investors will be tuned in for.Concerning Data Center sales, the Zacks Consensus Estimate presently stands at $12.6 billion, suggesting 230% growth from the same period last year and reflecting another quarterly record. The company has exceeded consensus Data Center sales estimates in back-to-back releases, with the latest beat totaling nearly $2.5 billion.In the Q2 release back in August, Data Center revenue of $10.3 billion grew a remarkable 140% sequentially and 170% year-over-year.

Image Source: Zacks Investment ResearchNVDA will likely again post another strong quarter concerning Data Center sales, particularly as many notable technology companies continue rapidly deploying generative AI. NVIDIA is currently the go-to for AI applications, and given its rich history of rapid innovation, this appears unlikely to change meaningfully anytime soon.In fact, 1600+ generative AI companies are currently building on NVIDIA, further reflecting the company's current dominant stance. The artificial intelligence race is undoubtedly underway, and NVIDIA is leading the pack.GamingBeyond the Data Center, NVIDIA also generates a notable chunk of its revenues from its Gaming platform (33% of revenues in FY23). The company's Gaming results include sales of its highly popular GeForce GPUs for PC gaming and GeForce NOW (Cloud Gaming Service).Gaming revenues improved nicely throughout its latest quarter, totaling $2.5 billion and penciling in growth of 22% year-over-year. For the release, the Zacks Consensus Estimate for Gaming revenue stands at $2.7 billion, suggesting an impressive 68% year-over-year growth rate on easy comps.The company's Gaming revenues cooled significantly amid an overall slowdown in video gaming post-pandemic, helping to explain the significant growth expected. Nonetheless, NVIDIA has consistently exceeded consensus Gaming revenue expectations despite the slowdown mentioned above, as shown below.

Image Source: Zacks Investment ResearchBottom LineAnother robust quarter from NVIDIA appears to be in the cards, with scorching-hot Data Center demand and an improving gaming industry likely to provide tailwinds.Concerning the valuation picture, NVDA shares presently trade at a 46.1X forward earnings multiple (F1), undoubtedly expensive but still beneath the 55.6X five-year median and five-year highs of 93.5X. Given the company's forecasted growth, investors have had little issue forking up the premium.

Image Source: Zacks Investment ResearchEstimates suggest 225% earnings growth in its current year (FY24) on 102% higher sales. And growth is fully expected to continue, with FY25 estimates indicating an additional 55% of earnings growth on 48% higher sales.Given the company's scorching-hot demand and favorable earnings estimate revisions that have followed, NVIDIA is certainly the stock for those who want to join in on the AI boom.More By This Author:Oil Falls Below $80: ETF Areas To Win/Lose3 Large-Cap Growth Funds To Buy As Inflation Continues To Cool3 Mid-Cap Blend Mutual Funds For Exceptional Returns