All things considered it should be a relatively quiet trading week as the institutional investors traditionally bow out for the holiday, though the OpenAI ruckus has created some noise.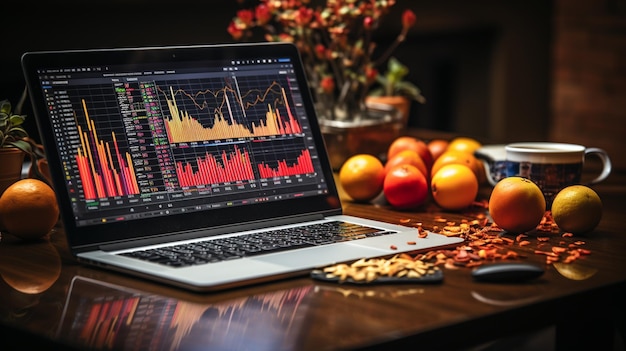 FreepikMonday the market closed up. The S&P 500 closed at 4547, up 33 points, the Dow closed at 35,151 up 204 points and the Nasdaq Composite closed at 14,285, up 159 points.
Chart: The New York TimesMost actives were led by Tesla (TSLA), up 0.6%, followed by Ford (F), up 0.7% and Bank of America (BAC), up 0.1%.
Chart: The New York Times In morning futures trading, S&P 500 market futures are down 7 points, Dow market futures are down 72 points, and Nasdaq 100 market futures are down 8 points.TalkMarkets contributor Mark Skousen asks Can The Fed Stick A Soft Landing? These Indicators Say: "Maybe Not"."Jay Powell, the current Fed chairman, says he no longer looks at the money supply to determine monetary policy.Today, the Fed's primary tool is interest rates to fight inflation. So far, his policies have worked, and consumer price inflation is coming down, as the following chart demonstrates.
And with Powell's strategy, the stock market is roaring ahead. (We are fully invested.)But will his "tight money" policy work in the future? Ah, there's the rub. In economics, we learn that monetary policy consists of two parts: The quantity of money and the price of money…As the following chart shows, the broad-based money supply has been extremely volatile since 2020. It ballooned during the COVID-19 pandemic in 2020-21 and has collapsed in 2020-23…
In order to have a soft landing — stable economic growth — the Fed needs to adopt Milton Friedman's Monetarist Rule: Increase the money supply at a stable rate close to the long-term economic growth rate of 3-4% a year.Unfortunately, the Fed is moving in the opposite direction of an unstable "easy money/tight money" policy, what I call the Fed Disaster Plan. The longer the money supply remains stagnant, the more likely we will see a recession, probably in 2024."Contributor Wajeeh Khan  finds that among others Salesforce Offers Matching Compensation To OpenAI Researchers.
Unsplash"Marc Benioff wants researchers that leave OpenAI to join Salesforce Inc (CRM). Shares of the cloud company ended nearly 2.0% up today.  On Monday, OpenAI had the majority of its workforce threaten to leave and join Microsoft (MSFT) if members of its board did not resign…But it looks like MSFT will have to fight for the OpenAI employees as the Chief Executive of Salesforce just offered matching compensation to its researchers. "CRM" is currently up a whopping 70% versus the start of 2023.Salesforce Inc plans on accommodating the OpenAI researchers in its Einstein Trusted artificial intelligence research team that is led by Silvio Savarese.Note that the California-based company had partnered with OpenAI to launch the said ChatGPT-like tool for CRM in March." TM contributor and economist Menzie Chinn checks to see how "in check" inflation is in Price Level For The Carnivore's Breakfast/Commute."In one picture. Prices of bacon, eggs, coffee lower than a year ago October, and gasoline lower than a year ago week ending November 13 (all normalized to July 1983=100).
Note: All series rescaled to July 1983 = 100.Every price is lower.More broadly, CPI for food at home, compared to headline CPI.
Figure 1: CPI all urban (blue), and CPI for food at home (tan), both 1982-84=100. NBER defined peak-to-trough recession dates shaded gray. Source: BLS via FRED, NBER.Food at home prices have risen at an annualized 2.4% over the last 3 months, compared to overall (headline) CPI inflation of 4.4%."In the "Where To Invest Department" contributor  Joseph Shaefer compares Tesla, Toyota, And Subaru: If You Could Buy Only One.
Unsplash"If you could buy shares of only one of these great marques for capital gain, which would it be?This quandary might be easy if you are a happy Tesla automobile owner. Tesla, Inc. has roared ahead for years based on its early customer satisfaction…Then there is Toyota Motor Corporation (TM), the most popular brand in the world as measured by total sales. They aren't just the most popular brand, they dwarf most of their competitors, with 5,420,000 cars sold in the first half of 2023.
StatistaThat is more cars sold in 6 months than the 4,530,000 cars sold by Tesla since the sale of its first car in 2008 through July of 2023…That brings us to tiny – by comparison – Subaru Corporation (FUJHY). How small is their market share? They sold a grand total of 350,699 cars in the USA in the first half of the year and something like 200,000 in other parts of the world…That may seem like a very small number of vehicles sold, but it is up a very respectable 15.3% YoY in the U.S.Subaru only accounts for 4.4% of the U.S. market – but it is one of the fastest-growing marques in the country…Whether you like the idea of EVs or not, whether you like Tesla automobiles or not, you must give TSLA kudos for taking a newer technology and making a profit at what they do. According to the Wall Street Journal (Oct 28, p. B12), Ford lost about **$37,000** on each electric vehicle it sold last quarter. Heck, that is less than the price of a whole lot of new cars – how do you lose $37,000 for every car you sell?..Toyota has undertaken a very different strategy in dealing with the EV revolution. The company most recently made it very clear that they believed hybrid vehicles that use battery power, as well as internal combustion engines, are the smartest way to move into this Brave New World. As the world's biggest automaker, it does them little good to jump solely into direct and bloody competition for EVs…Toyota dominates the hybrid sub-sector of all automobiles from all companies with its RAV4 Hybrid, Highlander Hybrid, and Prius Prime.I would never vote, or vote with my investing dollars, against Toyota…Okay, even Subaru joined the pack and provided us with an EV, the Subaru Solterra, for the 2023 model year. But mostly Subaru has refrained from the costly jockeying over the past decade between Tesla and all the legacy car makers…I am not much interested in how these companies have advanced over the long term. I think the increased competition from China and elsewhere has created a whole new playing field. I am looking, therefore, at this most recent year.
Seeking AlphaTesla stock was the most volatile over this time, plunging 32% in January before climbing back. Toyota and Subaru were pretty steady, with Toyota having a nice climb just recently…I recently bought Subaru shares for myself and for our investment group's model portfolio. time. I have a limit order to buy some TM at a lower price. If we get a correction or TM stumbles temporarily, I will own that as well. I have nothing against owning TSLA at a lower price…It is just not my cup of tea at its current price."See the full article for additional commentary.Caveat Emptor.Contributor Jharonne Martis closes us out with a particularly seasonal piece informing readers that U.S. Retail Black Friday Deals Arrive Early.
Pixabay"Black Friday deals are arriving earlier this year as U.S. consumers are still dealing with higher prices from a year ago. As a result, retailers know that shoppers have become price-sensitive and are looking for steep promotions and discounts…retailers have ramped up the amount of merchandise on sale, hoping that more shoppers will open their wallets ahead of Black Friday…For November, the discount penetration is 42%, considerably above the 2023 average of 33%, as retailers face a more price-cautious consumer.
Exhibit 1: U.S. Online Retail: Discount Penetration–2019 – Nov 2023
Source: Centric Market Intelligence formerly StyleSage Co.However, what has not changed as much is the average discount offered on this merchandise. The average percent discount in November has remained steady at 37.5%, in line with the 2023 average of 37.5%. This means that retailers are ramping up the amount of merchandise on sale. However, the average discount is slightly lower than last year. Suggesting that retailers are luring in shoppers with more merchandise on sale, but are being more cautious with margins…Consumers' shopping behavior has changed since the pandemic, as shoppers gravitate towards services over discretionary items. As a result, U.S. mall stores have been underperforming the restaurants and hotels sector. Accordingly, retailers are ramping up the promotions to attract shoppers, just in time for Black Friday week. About 45% of the online merchandise for U.S. mall stores is on sale this week. This discount penetration is slightly higher than it was during Black Friday last year (44%)…Department stores consistently remain the most promotional-driven sector throughout the years. This holiday season is no exception and the average discount is above the high pre-pandemic levels.Last week, Macy's reported Q3 earnings and its CEO said, "I'm 36 years into this, and I haven't known a fourth quarter that isn't competitive and isn't promotional. That being said, our guidance and margin gives us the opportunity to offer compelling value to have a strong Black Friday." (Source: Macy's Q3 earnings call Nov '23)For this Black Friday, the discount penetration is a whopping 69% this year from 77% in 2022. This means that more than half of the inventories are on sale. That's extremely high and the question is how long this sector can maintain these high discount levels, which come at the expense of margins…Retailers have ramped up their discounts to the highest levels seen in 2023. The department stores will offer the most discounts, followed by the specialty sector. Within the latter category, apparel continues to be most discounted."See the full article for additional charts and additional retail sector details.Have a good one.Happy Thanksgiving.
Unsplash More By This Author:Thoughts For Thursday: The Market Is Firming Higher, Tread Carefully
Tuesday Talk: What's Going On?
Thoughts For Thursday: Staying On Top – Barely