Zacks Rank #2 (Buy) stock Coinbase Global (COIN) is the largest and most popular cryptocurrency exchange in the US. The platform allows users to buy, sell, and store cryptocurrencies like Bitcoin, Ethereum, and Ripple. Spotty But Improving Earnings Surprise HistoryCoinbase went public in 2021 and has ten quarters of earnings history. Though COIN's earnings history is brief, thus far, it paints a mixed but improving picture. COIN has missed Zacks Consensus Estimates in seven of eleven quarters. However, the past three quarters have been solid with double-digit EPS surprises in each quarter.

Image Source: Zacks Investment Research SEC LawsuitThe biggest cloud surrounding Coinbase is its ongoing battle with the US Securities and Exchange Commission. In June, the SEC charged Coinbase with operating a crypto asset trading platform as an unregistered securities exchange. Despite the obvious uncertainty the lawsuit creates for investors, Coinbase shares are much higher than when the SEC lawsuit was filed on June 6th. A plethora of recent crypto industry legal victories is likely spurring investor confidence. The main takeaway for investors is how resilient the price action has been in the face of the lawsuit.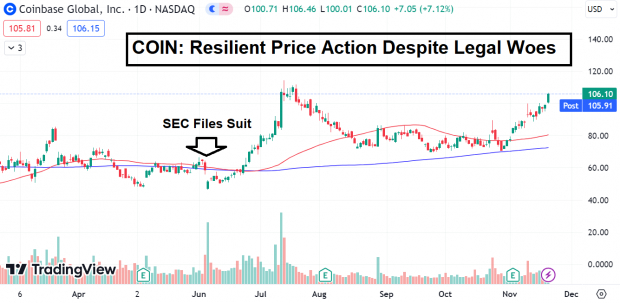 Image Source: TradingView Forward GuidanceCoinbase is very likely to report a loss for the quarter. However, Wall Street is forward-looking. Watch to see if Coinbase's positive earnings trajectory is expected to continue. Bitcoin HalvingThe next Bitcoin Halving will occur in the first half of 2024. When a halving occurs, the reward for mining new blocks is halved, making it more challenging for miners to earn net Bitcoins. Historically, this event has led to increased scarcity and has driven up the value of Bitcoin due to reduced supply. Because Coinbase's business is deeply intertwined with the world's most popular cryptocurrency, the halving is a potential bullish catalyst for COIN shares.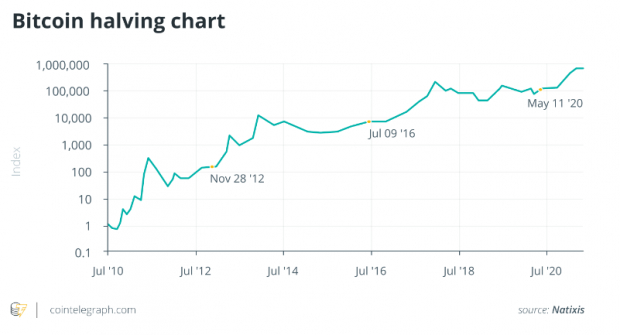 Image Source: CoinTelegraph Institutional Adoption Commentary: Slowly, then all at OnceFor most of its history, small retail investors have comprised most of the investment in the crypto industry. However, Bitcoin has stood the test of time and is garnering attention from the world's largest asset managers, such as BlackRock (BLK). If Bitcoin ETFs are to be approved (I expect them to be), Coinbase will benefit dramatically because it is the listed exchange for most of the Bitcoin ETF filings. Furthermore, COIN CEO Brian Armstrong divulged in an interview that deep-pocketed sovereign wealth funds have already begun to allocate assets to crypto. While adoption is already in motion, the floodgates will swing open if the crypto industry gets long-awaited regulatory clarity from regulators. Coinbase is a Cash CowValue investing legend Seth Klarman shocked Wall Street when he invested in Coinbase. Though Klarman is far from a crypto proponent, he explained that he bought shares because "Coinbase is sitting on $5 billion in cash, has less than that in debt, and is doing some smart things." Though Coinbase is losing money, its growing cash hoard should attract new investment dollars from investors who would otherwise avoid the crypto industry.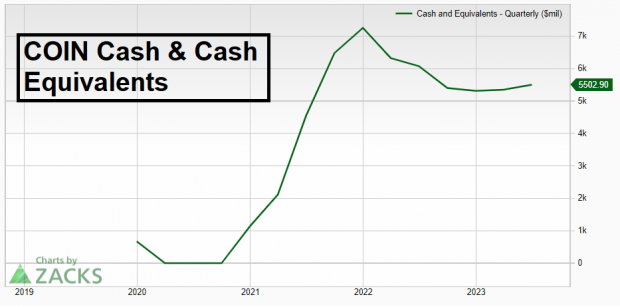 Image Source: Zacks Investment ResearchBitcoin is Being Used as an Inflation-Fighting ToolBitcoin is being used in the real world to stave off inflation. The evidence? Bitcoin hit new highs in three inflation-plagued countries, including Nigeria, Turkey, and, of course, Argentina. The evidence is clear: world citizens are gravitating toward Bitcoin because of its inflation-resistant protocol (there will only ever be 21 million coins, while countries around the world print money endlessly). Year-to-date, Bitcoin is up a robust 351% versus the Argentine Peso.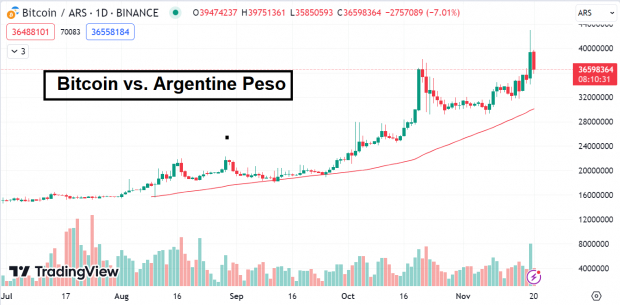 Image Source: TradingViewMore By This Author:AI Events Dictate Monday's Bull Market; Zoom BeatsBear Of The Day: Dollar General (DG)Bull of the Day: Intel